Merry Christmas/wrapping up 2021
As we wrap up 2021, with COVID still very much in the picture, I remain grateful that together we have built such a wonderful community around Coastal Purl. With the holidays upon us I wanted to share some of the highlights of the year...
We had the long-awaited yarn cutting celebration with help from the EC Chamber of Commerce and a huge lift from my wonderful tribe of regulars. With their help we pulled off a great party...
This is a community that gets projects DONE! Finish-it-Friday remains the highlight of every week - I am inspired by what you create and the energy and enthusiasm you bring!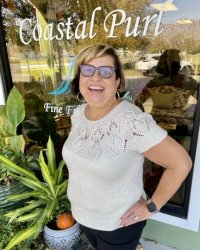 We had felting parties - some at the shop and one at Ghost Harbor Brewing downtown...
And we coached each other through projects...
And now that the holidays are upon us we are wrapping up Christmas themed gifts...mailing off that last package, and ready to enjoy the rich traditions of the season...
With the winter solstice behind us (ok, by a day) we've still got plenty of cold weather and short days ahead so swing by, there are no strangers here. Brew a cup of something warm right here at the shop and settle in for knitting, crocheting, felting, but most of all, a whole lot of fellowship...the door is open and the lights are on.
Merriest of Holidays, I am grateful for this very special place and for all of you,
Kindly,
Katherine
PS don't forget Holiday hours: open 11-2 Christmas Eve, closed Christmas. Week between Christmas and New Years: T-F 9-1, Closed New Years Day.